Alice stepped into the Sephora in Meatpacking on her way up to The Grill on Park and 52nd, nearly toppling over a 20-something who had stopped dead in the doorway to take a video of her nails.  
"What the hell?" the younger girl shrieked. 
Alice didn't have time to get into it right now. "Check your Instagram later!" she called out over her shoulder. God, she never would have yelled at someone like that back home. In the South, she had been taught from a young age to display manners over common sense. She loved the freedom of her newfound sass.  
Alice walked over to a shelf of brightly colored lipstick. She wanted something to spruce up her outfit, which she hadn't properly planned for tonight. But then again, she hadn't known she was going to this dinner until about five minutes ago. 
Her friend Pennie had invited her for a free meal, paid for by Pennie's roommate Cassidy's quasi-boyfriend. Some girls just had a knack for getting things paid for, and Alice wasn't about to turn down free food. Especially from The Grill. She may have been new to New York, but she knew which ones were the nicer restaurants thanks to her job. 
"But why is he sending her out to dinner when he's not there?" Alice had asked Pennie. 
"Cassidy told him she had a rough week, so he said to bring seven friends and enjoy dinner on him. He's in London for work." 
"Geez. And some of her other friends bailed?" 
"Yeah. So she said I could invite whoever! I'll see you in twenty minutes?" 
Alice had hung up and practically sprinted from her office. She was in high-waisted flare slacks and a silk top with a slim blazer. She took the blazer off and shoved it into her bag. Voilà, she thought. If there was one thing she had learned from living in the city, it was to make sure work clothes transferred from day to night. 
She ran her eyes over a vast assortment of lipstick colors, feeling overwhelmed by the number of choices. There was peach, Ferrari red, plum, pastel pink... But which one would most make her feel like she belonged here? She looked up and saw a display in the center of the store where a stunning brunette model wearing hot red lipstick stared back at her. On the giant poster, the brunette model was grinning, surrounded by laughing girlfriends. She had thick, dark eyebrows that highlighted her olive eyes, and a smile that exploded off of the display. 
Alice knew immediately that that was the shade of red that would pull her outfit together. She grabbed the lipstick from the display and practically threw it at the cashier, who glared at her. 
"I'm in a hurry!" she said, somewhat apologetically. 
As she waited for the cashier to ring her up (as he was now moving at a snail-like pace, as if to make a point) she thought about the smiling brunette on the display. How easy her life must be. And surely surrounded by beautiful friends who all lived in the city and abroad doing incredible things. 
Alice was still trying to make friends herself. Pennie was her first friend; they worked for the same company doing random personal assistant type jobs for ultra-high net worth individuals who had all the money in the world to spend on whatever kind of experiences they liked. She was grateful for Pennie, but she still got lonely. A lot. Alice's boyfriend was rarely ever home when she was, and Pennie had already been in the city a year and had moved up with a bunch of friends. Alice sighed. That beautiful model would never have to worry about being lonely, she was sure.
The cashier, whose name tag read Thomas, grabbed the lipstick and held it up to the light. 
"What are you doing?" Alice asked, growing more impatient by the second. She had like ten minutes to get uptown.
"Making sure it's not counterfeit." Thomas could barely hold back his grin.
Alice crossed her arms. "That's not even a thing."
Thomas jutted his chin in mock seriousness. "No, it's… it's pretty standard procedure." 
"That's not a thing and you know it," Alice mumbled in defeat. This is what she got for being cocky about her newfound assertiveness, she thought. New York always finds a way to humble you. 
"Alright, I'm done playing with you." He threw the lipstick in the bag and dropped it in front of her. 
Alice grumbled a thanks and dashed to the E train at the 14th street station. 
Standing outside of The Grill, Alice looked up and slowly spun in a full circle while taking deep breaths of the night air. She was already late, so she decided she might as well take a moment for herself. The spin was a little ritual she had that always made her feel better. All day in the city she felt like she was surrounded by compact and stunted views. Looking up, staring out into a never-ending sky—it was like she could breathe again. She never would have done this at home. If anyone saw her spinning with her head thrown back they might have found her weird… or on drugs. Here, nobody blinked an eye. 
Once inside she was ushered upstairs into a massive dining room. Immediately her attention was pulled toward a table in the center of the room filled with gorgeous girls, talking excitedly over one another. 
Pennie waved her down. "Al!" 
Alice walked over and hugged Pennie hello, who introduced her to the rest of the girls. 
"This is my roommate, Cassidy," Pennie said, gesturing to a beautiful blonde. Cassidy wore the latest Manolo Blahniks and a stylish black-striped pantsuit that cut down to her stomach, exposing the insides of her breasts and cleavage. 
Wow, no wonder she gets free dinners, Alice thought. 
She met the rest of the girls one by one, doing her best to remember their names. As she turned to the girl on her left, she was stunned to see the smiling brunette model from the Sephora display. There. At the table. And Alice was about to sit down next to her. 
"I'm Mena," the model said, her straight chocolate brown hair spilling over her bare skin. She wore a tiny strapless dress that showed off her mile-long legs and slender body.
Alice laughed out loud as she kissed the model's cheeks. "I don't know how to say this, Mena, but I was just staring at your face in Sephora." 
Mena laughed. "Oh God, that day was the worst. The photographer tried to hit on me and was making me uncomfortable the entire shoot." 
Alice blanched. "Are you serious?"
"Yeah. Not exactly my favorite campaign, but no surprise there." 
Mena launched into a few other stories about times when she had to look delighted or joyful in less-than conditions. While she talked, Alice took in her face. She was beautiful, all right. Maybe even more beautiful in real life than the air-brushed poster. And Alice was pretty sure she wasn't wearing any makeup except for some eyeliner, which pulled you into her light green eyes. 
As the dinner carried on Alice realized that Mena didn't know the other girls well either.
"How do you know Pennie?" Alice asked. 
"Oh, Pennie is one of my best friends. We met on a shoot when Pennie was helping one of her clients set up for his photoshoot. She was so kind to me." 
Alice nodded. "Yeah, she's a good one." 
"She is. I don't actually have a lot of good girlfriends," Mena admitted, her dark eyebrows furrowing. "I try, but girls just aren't that nice to me."
Mena had caught her off guard. That was the farthest thing from what she expected to come out of this gorgeous model's mouth. "What? Really?"
"I think it's because of the way I look." 
Alice almost laughed out of shock, but Mena was being so open and vulnerable she didn't want to accidentally hurt her. Alice put her hand on Mena's arm. "I never would have thought… I was just thinking at the store that you must have everything so easy. Shit, I'm sorry." 
"Yeah, that's the point of those though," Mena said with a small laugh. "You're buying into that fake reality." 
"I'm literally wearing the lipstick you were advertising right now," Alice said, grinning. "I'm such a sucker!" 
"I knew it looked familiar!" 
The girls laughed and Mena gave her a genuine smile that reached up to her eyes. 
Alice squeezed Mena's arm before raising her glass to the middle of the table. She had a sudden burst of confidence, possibly because she realized she should be careful before comparing her life to ad campaigns from now on. "To the boys who buy us dinner and don't make us sit through it with them!"
The girls laughed and clinked their glasses. Alice smiled, realizing she may have made a new friend.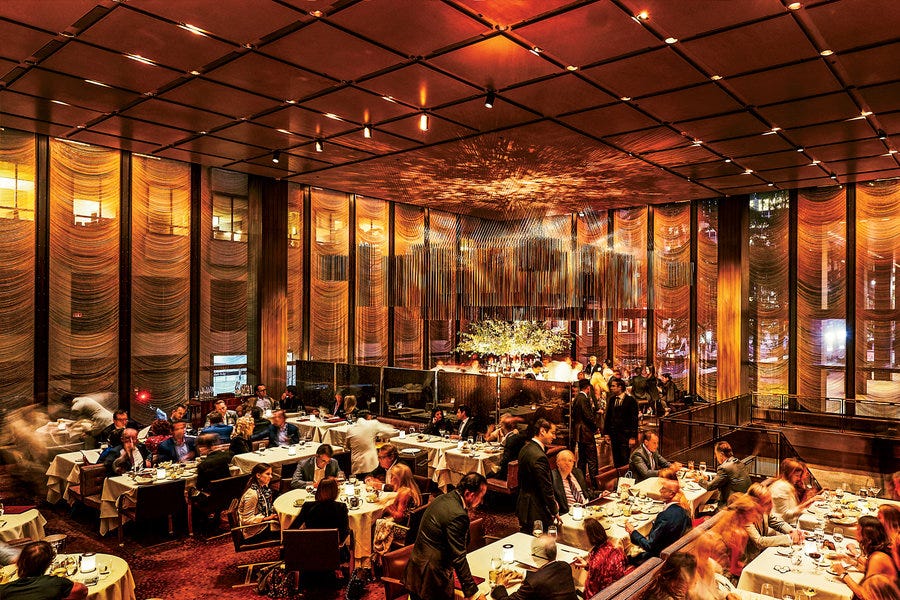 Photo of The Grill by Adrian Gaut