Alyson Stoner
New York Stories
The 2019 VMAs in New York City were two days away, and Alyson Stoner had been shipped to New York to appear at a pop-up museum honoring Missy Elliott. Nothing more, nothing less. Sure, a part of her thought she might perform, but in all honesty, she was just happy to be there, making the most of her time celebrating Missy. 
Jaimee 9:34 pm: Are you going to be on stage performing? 
Alyson stared down at her phone and typed in the same response for her little sister that she had written to all her friends. 
Alyson 9:35 pm: I don't think so. They would've told me weeks ago. I don't even have tickets to the show! 
Alyson rolled onto her stomach on the small hotel bed and thought of her first music video with Missy when she was only nine years old. It had been a memorable cultural moment to have a little white girl appear in the iconic "Work It" video.
God, if only she had known what was coming. The media machine was about to take over her life and spin her out into their idea of who they thought she should be. And how was she to know better at nine years old? She closed her eyes and memories of auditions for acting parts swirled in her head: she was always the sidekick, always the number two to someone else's leading role. Her "second best" typecast had bled into her life at a young age, and unlearning that story was an ongoing process. 
Unknown 11:01 pm: Hi Alyson, it's Hi Hat. Hopefully this is still your number? 
Alyson's stomach dropped to the floor. Hi Hat was the choreographer from that first Missy music video all those years ago. Her cells began to vibrate. SHIT, she thought. I'm about to perform at the VMAs. 
Alyson 11:03 pm: Hi! Yes. What's up?
Hi Hat 11:03 pm: We want to get you on stage with Missy. 
I haven't trained in years! Alyson's mind shouted. I'm not qualified to do this! 
Alyson 11:04 pm: I'll be there.
After getting details on rehearsal, Alyson set her phone down and froze for a fraction of a second. She knew the psychological shitstorm that was about to come her way from being in the public eye: harsh criticism, ego-inflation and deflation, and an increased following and societal expectations, to name a few. Panic danced at the edges of her mind. 
No, she thought, sitting up straight and focusing on her breath. I won't let panic be a part of this. She took long breaths, one following the next. She crossed her legs and put one hand on her heart. Another deep breath in. She closed her eyes and dropped out of her mind and into her body. Just keep breathing. Her body hummed, but instead of feeling fear, she felt reassurance. She knew all of these things were coming, and could have been afraid, and yet her spirit told her she wouldn't worry about any of it. She needed to stay clear and focused for the next forty-eight hours. She had no time to be insecure; she could only trust in herself and have absolute confidence. 
This was going to be a moment of beauty and grace and celebrating Missy, Alyson decided. So instead of worrying, she asked herself, how can I best prepare for tomorrow? She pulled up the Work It video and re-learned the original choreography. She stretched her hamstrings. She made herself a toolkit of moves that she could pull out for Hi Hat. And with one final meditation, she got a good night's sleep. 
---
Alyson showed up at the Prudential Center the next day with no idea what to expect. The VMAs were tomorrow. As she walked the massive hallways, people started to recognize her. 
"You're the little girl with pigtails from the video!" a girl shouted out. 
Several others stared in her direction. 
"Oh my god! Are you the surprise?" someone else yelled. 
"I have no idea!" Alyson said, shrugging her slender shoulders. 
She turned the corner to find the stage, and there stood Missy in all her glory. Alyson walked straight to her and Missy opened her arms wide. They hugged, and Alyson was embraced by the love passing between them. 
"Thank you for being here, Alyson," Missy said, her eyes full of gratitude. 
Alyson realized the last time she'd seen Missy she had to look up to speak to her, and now Alyson bent her chin slightly to maintain eye contact. "I'm honored, Missy." 
"Missy!" A woman with an iPad called to her from the side of the stage. "We need you!" 
Missy and Alyson smiled at one another, and then Alyson was alone. 
Hi Hat strolled up to her. "Wow, it's been a minute," she said. 
They exchanged a hug and Alyson prepared herself for whatever was about to come. 
Hi Hat scratched at her head. "So, we let go of all the other dancers in this section. You'll be doing a solo." 
Alyson took a deep breath and nodded her head. 
"We actually don't have anything planned for you. So you'll be making up your own choreography." 
Another deep breath and a nod. 
"You've got about fifteen minutes right now of stage time to figure everything out. Let me show you your entrance and exit."
Alyson didn't waste a second. She shuffled backward and began to move, putting together a routine that came to her on the spot. 
"Alright everyone, let's run it!" Hi Hat called out after what seemed like no time at all. "Start to finish." 
The routine wasn't even fully fleshed out, but Alyson walked to the side of the stage and began. She fumbled several times and lost her place more than twice. There was no time for anything else though—the next time she was on that stage, she would be performing. 
Alyson stepped down toward Hi Hat, whose expression was hard to read.
"I will not fail you tomorrow," Alyson said, looking her straight in the eye. She would go home, practice, and kill it. 
On the way home, Alyson kept her mind calm. Again, she refused to let fear be a part of the experience. There was too much beauty to be enjoyed to let anxiety take over because she wasn't being present. She stopped at the drugstore to get press on nails for the big day and had to laugh. Surely other people had teams of professional stylists, and here she was at Duane Reade, buying ten dollar nails. 
That night in the hotel room she practiced her routine until she knew it in her bones. Her cells seemed to be reorganizing themselves to prepare to walk into the moment and perform in a way she had never performed before. She made sure to do a meditation and then went to sleep. 
---
Click! Pop! Flash! Alyson took a breath as she was blinded by the cameras and struggled to see the reporters surrounding her, shouting questions at her. The red carpet was a beast of its own. 
"Alyson! Will you be on stage today?" 
"Alyson, why did you cut off your pigtails?" 
"Are you the surprise, Alyson?" 
"I don't know," she said with a soft laugh and a smile, running a hand over her pixie cut. "I'm just here to celebrate Missy." 
Alyson found Hi Hat running around prepping dancers. "I'll get you your wardrobe soon," Hi Hat said to her, and then ducked away again. 
Alyson checked the clock. There were twenty minutes until her performance. Things were getting very real. And she didn't even know what she would be wearing! At this time, she normally had symptoms of a nervous breakdown before getting on stage. Jitters, vomiting, and overwhelming negative self-talk had plagued her before almost every major performance in her life. But not this time: she decided to stay in a centered, meditative state. 
She found a hidden spot at the side of the stage and thought of one of her favorite meditations, "I am That," which was one that reminded her of connectedness.
I am the reporter trying to get a soundbite, she thought. I am the red carpet being walked across by a bunch of expensive shoes. I am the man, homeless outside. Doing this helped her to operate outside of the typical cultural headspace of separate. I am Missy. I am me. All of the separations of identities started to disappear. I am the tech people working the event, I am the audience member. It was just her, existing in space as one, as everything. And with that headspace, the anxiety couldn't find a place to settle in her mind. 
"You're that little girl!" A drunken guy shouted. His buddies laughed from behind him, taking swigs from champagne glasses. Alyson thought she recognized his face from a popular Netflix series. "Do a dance for us!" 
I am the drunken man who doesn't realize he's being rude. She gave him a wave and returned her attention to the task at hand from her hiding spot. I am the stage. I am the food vendor. I am the curtains. 
Hi Hat found her with her wardrobe and Alyson threw on a yellow jumpsuit, which miraculously fit her like a glove. And then it was time.
She saw her cue and went for it. She was calm as she danced onto the stage, calm through the adrenaline spike as the audience exploded around her, going berserk at her cameo. All of the turmoil she went through in her childhood from being in the public eye and learning from that had brought her to this moment. 
In the entertainment world, when she was on the stage she usually had to fight to show that she belonged there. And once she got there, people were fighting to tear her down. But she didn't feel that this time. Instead, the resounding thought in her head was this: you've become everything you are from all of your experiences, and you are enough. It was the most healing, empowering moment, and such a line in the sand. She used to think she had to suffer to do anything important, to labor over everything.
But not anymore. 
As she nailed her parts, she somehow knew that the moment was about to go viral. She finished and exited the stage to the deafening roar of applause from the audience. 
---
"You're on every single news site," her publicist Tommy announced over the phone. "Number one trending topic!" 
"Amazing," Alyson said, her tone not quite matching Tommy's enthusiasm. It was amazing, but that kind of attention could set off a whole different set of anxieties. She had been here before; she knew what was coming. 
"And your followers are going up by the 10,000s!" Tommy continued to gush. 
Alyson couldn't help it—at that, she did smile. "Yeah, that's pretty cool, huh?" She was ready to draw attention to other issues that mattered because people were going to be looking at her social media. Her podcast Simplexity would definitely get some more downloads because of the spike in followers. She would be able to help more people and highlight her incredible guests, who ranged from environmental activists and life architects to death row survivors.
Tommy let out a laugh. "And the sneaker squeaking video…" 
Someone had dubbed over Alyson's performance with the sounds of squeaking sneakers to her moves, and it was trending now as well.
They both cracked up. "Whoever did that is a genius." 
Alyson's line beeped and she realized her agent was calling. "I have to go, Tommy. Rana's on the other line." 
Alyson clicked over. "What's up, Rana?" 
"Great news, you've been requested back on Ellen and Good Morning America. Everyone is calling this a comeback!" 
Alyson looked out her window at the city skyline. This wasn't a comeback—she had been here before and she knew better. It was just this moment. She would go on these shows and they would only let her talk about her past and nothing she was progressing with, nothing she was working on now. "We need to set up parameters. I'll do the shows and interviews ONLY if they let me talk about my podcast." 
"I can make sure of that," Rana said. 
---
Weeks later Alyson sat on her couch in LA, watching as her segment with Ellen aired. Sure enough, like all the others had, they cut out the parts where she talked about her podcast and current accomplishments. She sighed, but wasn't surprised. From the moment Hi Hat had texted her, she had known it would be a wave: a huge high followed by a huge low. She had been careful with her mindset though and hadn't fallen into getting chewed up and spit out and forgotten by everyone again.

She stretched her arms above her head and smiled. Even the highest moments in the world still had shadows—she knew that she couldn't only focus on one without the other. There was so much beauty in this experience, and her reach had grown. Even though many of the new followers would expect her only to dance, as that was the role the media machine had given her, she would not bow to that image. She was more than that.
Alyson grabbed a jacket and headed out for her podcast studio. She was excited to draw attention to important topics today like gender nonconformity, making peace with mortality, or improving mental self-care with all of the listeners she had gained. She had been able to extract the good from this experience, and that was what mattered. Instead of being afraid, she had said yes and trusted in herself, trusted that she was enough. Today she would remind her listeners: When a door opens for you, don't let it close out of fear and wait for it to re-open. Just go through.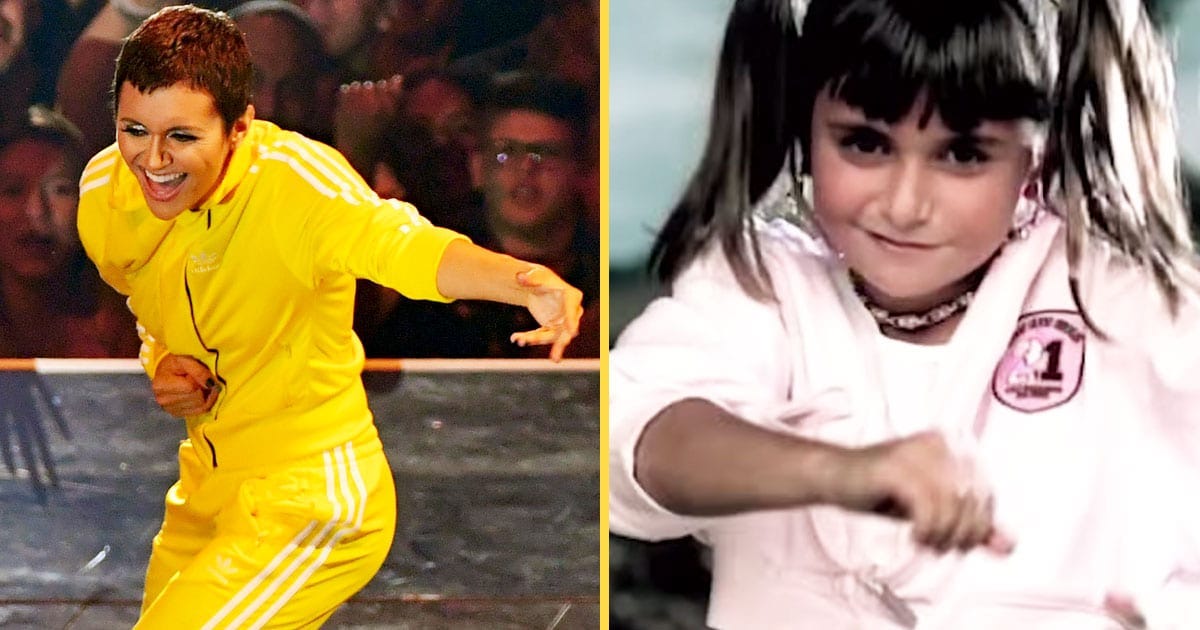 Photo from ScaryMommy