Jai
New York Stories
Jai slid her champagne flute from one hand to the other on the sleek bar, a smile bubbling under her lips. Her date had excused himself to the bathroom a little over twenty minutes ago, but she honestly couldn't care less if he had ditched. She marveled up at the magnificent centerpiece of the Boom Boom Room and wondered if the architect had been inspired by a french horn for its shape. The lounge was the epitome of a swanky Manhattan hotspot, and Jai was surprised she had never been there before. Perhaps because it wasn't her ex's style.
Jai was brought out of her thoughts by the bartender, whom she allowed to pour her another glass of Ployez-Jacquemart. The bartender winked at her before turning away, and Jai let out a happy sigh, feeling a calm that she hadn't believed possible after the tumultuous breakup she had just been through. And not to mention having to live with her cheating boyfriend for an extra two months after the breakup, but what else can you do with New York rent prices? It would have cost a fortune to break the lease. 
All of that seemed like a distant memory now. She was free and living with a girl she had met on craigslist, who had quickly become one of her best friends. Six months ago she never would have imagined herself on a first date, let alone one where her only interest was procuring as much pleasure for herself as possible. But this is the promise she had made after finding the texts from another woman on her ex's phone: she would put herself first from now on.
Jai pulled her cream-colored satin dress up from where the flimsy strap had fallen off her shoulder and looked up to catch the bartender giving her an appreciative look. He quickly looked away and Jai smirked. He was sexy--maybe she would slip him her number if her date didn't return. She began to fantasize about the bartender taking her into the storage room and running his hands down the back of her dress when her phone vibrated. A text from her date popped up on the screen:
Jon 8:25 pm: Charge everything to room 113 and meet me here. 
Jai had two thoughts run through her head at the same time. The first was: oh fuck, he got us a room. The second: ...that's kinda hot.
She sent a quick safety text to her roommate. 
Jai 8:26 pm: Room 113 at The Standard if you don't hear from me by tomorrow.
Karly 8:27 pm: have fun! 
Jai could always count on Karly to avenge her if anything went wrong. But right now, she was ready to have a good time, or whatever time awaited her in room 113. 
Jai knocked twice and took another sip from her champagne flute. Jon opened the door wearing nothing but a robe and handed her one. 
"Get comfortable," he said with a smile. "I'm running you a bath."  
Jai took the robe and stepped into the massive bathroom, which was surrounded by floor to ceiling windows overlooking the city. A single white porcelain tub sat in the middle of the room, and everything was tinted pink from the crimson and orange streaked sky. A board lay across the slowly filling tub, holding a cheese plate and another bottle of Ployez-Jacquemart. She slipped off her dress and got in the tub, pouring body wash into the cascading water and creating a mound of bubbles to surround her naked body. 
Jon knocked on the door and entered the bathroom, taking Jai in. "Wow. We should take photos of you." 
"Okay." Why not? she thought. The sunset was falling over the city all around her through the larger than life windows. The photos would be gorgeous. "On my phone though." 
Jon took her phone and Jai tipped her head back. She heard his sharp inhale and felt heat creep up between her legs. She had never done anything like this before, and it was exhilarating. She wanted to shock him. She lowered her head and locked eyes with him before putting one leg up on either side of the tub while he clicked away. 
"Oh my god. Please let me go down on you." 
Jai laughed and hopped out of the tub, the bubbles sliding down her wet body. "If you want to." 
She grabbed her phone and threw it onto an armchair before they stumbled over one another onto the plush, white comforter. Jai laughed as they kissed. She had swiped right on Jon, who worked for an investment bank somewhere in Midtown, a mere six hours ago. She hadn't even been trying to make plans for tonight. It was a Wednesday and she had work tomorrow at 9 AM. 
Jai grabbed a fistful of his sandy brown hair and pushed his head down, where he stayed for the next hour and a half and three orgasms. 
---
"I'm going to head home," Jon said as he came out of the bathroom, fresh from a shower. "But you stay and order whatever you'd like." 
Jai couldn't get over the fact that he hadn't wanted anything from her in return. They hadn't even had sex. "Are you sure?" 
"Yeah, I have a big meeting tomorrow morning. This was really helpful." Jon said. He smiled, and Jai couldn't help but smile back. He put on his suit with careful deliberation and kissed her on the lips before slipping out of the room. 
Jai grabbed her phone from the chair and a Pax from her bag before flopping back onto the pillows, grinning at the thought of her night. 
Karly 11:12 pm: Ended up at the Gansevoort. Come here when you're done? 
Jai 11:45 pm: No way. I have a free hotel room and he left. You come over here. 
An hour later Jai and Karly sat cross-legged on the bed in bathrobes eating pizza and smoking weed.
Karly scrolled through Jai's photos with her mouth open in an O. "He went down on you three orgasms straight and didn't want you to do anything in return?!" 
"Yeah, he just left. Like pleasuring me was what got him off? I don't know... I didn't question it." Jai took another hit from the pax before rolling onto her stomach and staring out at the city lights. 
Karly lay on her side, resting her head on her arm and staring at Jai. "Wow. Didn't you just say last week you were making a vow to put yourself first and not worry about any guy's needs?" 
Jai exhaled, a cloud of vapor rising toward the ceiling. "Yep." 
Karly laughed. "Well, if you didn't believe in synchronicity before…" 
"Oh, I believe," Jai said, remembering her first orgasm of the night. "Thank you, Carl Jung." 
"Thank yourself." Karly rolled over onto her stomach. They both gave contented sighs, seemingly taken over by the beauty of the city cloaked in night. "You're the one that called it in."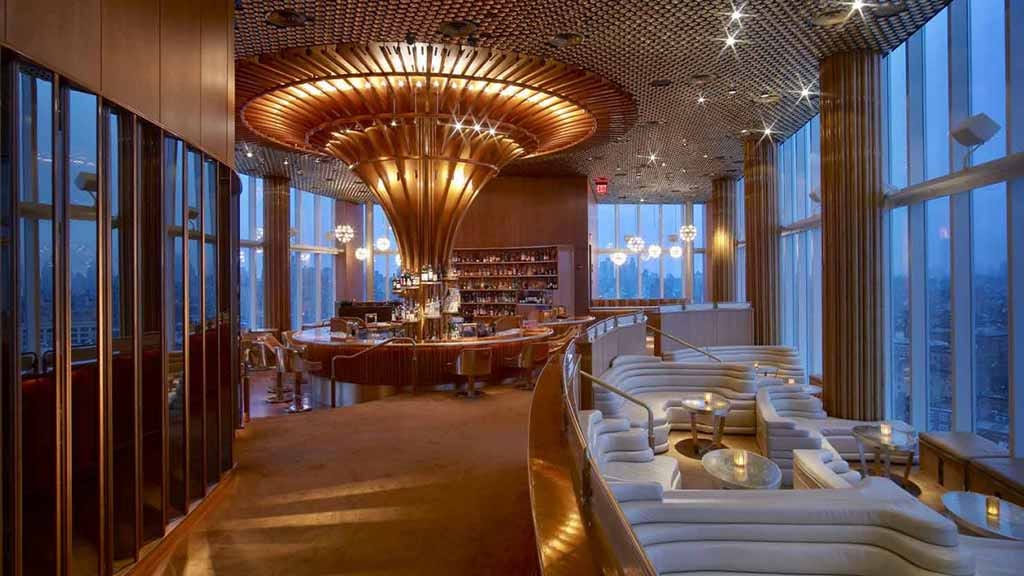 Photo by: Thirsty Mag