Nara Part II- Subways
New York Stories
There's nothing like walking by a man and knowing he's jacking off to you.
Nara cringed while descending into the Canal Street station. She could see the lazy motion of the man's hand in her peripheral. She knew his eyes were still on her—she could feel his stare engulfing her; it screamed like a television screen blaring white noise.
Well, at least he has his pants on. She caught her last thought—at least he has his pants on!? And that's how you know you've been in New York for a while, she mused with a chuckle.
---
Just three weeks ago Nara had been at The Butcher's Daughter in Williamsburg with three of her friends, reliving their most memorable subway experiences.
"The randomness of New York is concentrated in the subways. You're a captive audience to whatever happens on the train. You cannot escape," Nara said.
"I had a guy pull a shank on me once," Atlas said, his eyes widening behind black tinted glasses. Atlas had worked as a fashion photographer in the city for the last three years, and the black glasses were a staple in his wardrobe. "I thought I was going to get stabbed. I was the closest one to him and the train was moving. And I thought, even if I do survive the stabbing, who knows what's on the blade?"
"So what happened?" Blake asked, leaning her slender arms on the wooden table and resting her chin in her hands.
"Nothing. I was so terrified I got off at the next stop. Longest minute of my life though." Atlas let out a deep breath. He stared over Nara's shoulder at the sidewalk traffic, as if lost in the memory. "And that's when I bought the bike."
Noelle let out a sound of surprise. "That's why you bought your bike?! Makes sense."
Nara laughed. Everything Atlas did and owned seemed effortlessly cool, including the sleek black bike he rode everywhere. One time he even beat Nara and a group of their friends to a party when they had taken an Uber. Atlas had been waiting for them, leaning against a fire hydrant with arms crossed, his black skin glowing in the moonlight—the picture of calm and collected. She couldn't believe the bike had been from a subway scare.
"Once I had a woman on drugs on the S train at 8 am screaming about how she was going to kill us all. I was scared shitless. I can't imagine someone having a weapon out," Nara said.
"The subways are filled with random chaos," Atlas said, shaking his head.
The friends sat still for a moment, each reliving their terrifying public transportation moments.
"Thanksgiving feast," Noelle blurted out, breaking the tension.
Blake laughed. "What?"
"Last November on the L train. Table, turkey, silverware, everything. A full-on feast." Noelle grinned. She wore a babydoll dress and black combat boots. Her light brown hair framed her heart-shaped face, and she was even more beautiful when she smiled. Nara had a little game she liked to play in her head: see if people's appearances matched what they did for a living, in the most standard sense. Noelle worked on business development and strategy for a biotech company. Nope, Nara thought. She loved it when it didn't match up.
"Genius," Nara said. "Actually I think I might have seen that on Subway Creatures! Or maybe it was What is New York..."
"Did I ever tell the story about the homeless man who tried to feed me a hot dog?" Blake said, her ash blonde hair falling in front of her eyes.
"No!" Nara and Noelle said in unison.
"No way," Atlas said, shaking his head again.
Blake nodded her head. "He got mustard all over my face and then I had to go to work like nothing had happened."
Their server had appeared beside the table during Blake's hot dog comment, but he didn't bat an eye. He ran a hand over his closely shaven head of lime-green hair while staring at Blake, seemingly trying to capture her attention. "Anything else for you? We have gluten-free hazelnut olive oil cake for dessert."
Blake and Nara made eye contact across the table. "Oooh," Nara said, her eyes widening.
Blake's blond eyebrows raised as she asked the server for the ingredient list. Blake had quit her consulting job at one of the largest professional services networks in the world to start a wellness company. She and Nara had met at a singles event thrown by a mutual friend that hosted a popular New York-centric dating podcast. They liked to joke that although they hadn't found love, they had found each other.
When the server walked off, Nara remembered one of her funnier experiences. "One time a group of older women brought confetti and wine on the train and were strip dancing on the poles. I was exhausted on my way home from the office. I barely looked up when one of them tried to give me a lap dance."
Atlas laughed. "I would've loved to see you spaced out and trying to fend off drunk women giving you a lap dance."
"And I just realized I've never even told anyone about it!" Nara said, cracking up. "I completely forgot about it till just now."
"That's how you know you've been in New York for a while," Blake said with a sly smile.
Atlas chuckled. "Yeah, the weirdest things can happen to you and then you just have to keep going on with your day."
The lime-haired server came back to the table, dropping off their check. "I sat next to a person who had a duck on a leash on the L train once."
They all turned to stare at him. "Really?" Noelle asked.
He nodded. "It was a very well behaved duck though," he said before marching off toward another table.
The friends all stared at each other quizzically before Noelle picked the conversation up again. "I swear one of the worst things is making accidental eye contact with a guy jacking off."
Nara's mouth fell into an O. "What! I've never seen that before!"
Noelle and Blake both turned toward Nara.
"You've been in New York for years and you've NEVER seen that before?" Noelle asked. "How?"
"Consider yourself lucky," Blake said. "Just imagine riding to work and there's someone sitting under a blanket on the seat across from you and you see the repeated rise and fall motion... You can't see it but you just know what's happening."
Nara took an Uber home that evening.
---
Now here she was. The dinner with her friends had only been only three weeks ago and this was the third time she had seen a man jacking off in public. Sometimes she could almost hear the universe laughing at its own joke.
She couldn't focus on her disgust for long though, as her train would be leaving in a minute. She power-walked faster than usual, hoping she wouldn't have to wait for another train. Even if the next one was only a couple minutes behind, missing the subway irked her to no end. She took off into a kind of skip dance down the steps and heard the beginning of the all too familiar voice chime, "stand clear of the closing doors, please." She leaped off the bottom step and slid inside the subway car just in time.
After a couple of stops, the conductor's voice came on over the loudspeaker. Nara took out her headphones. "Good afternoon everyone, some important updates..." the muffled voice began. "The E line lshhet undershhargshing mainshtenkse ashihd not stopping on local shhthleps switching to thessh lishe. Please use the shhhiun tshhuine instead." All of the subway riders looked around with puzzled expressions to see if anyone had understood the announcement. How does that always happen? Nara wondered while shrugging at a passenger across the aisle. I'll just have to wing it, she thought.
The doors of the conjoining car slid open with a startling crack, bringing Nara out of her thoughts. A homeless man hobbled inside, passing her before stopping in the middle of the crowded car. He had only one shoe on, so worn that his toes stuck out into the air. His other foot was swollen and cracked and looked infected, filling the car with decaying odor.
"Please," the man cried out. "Please someone help me!"
No one moved. Nara frantically ran through the contents of her backpack in her head. Did she have any change? She didn't think so.
The man started to cry. "PLEASE," he sobbed. Tears ran down his cheeks. "Why won't anyone help me?!"
Nara's heart lurched in her chest and her stomach constricted.
What had she done to deserve the hand she was dealt? How would she want to be treated if she were in this man's shoes, or lack thereof?
She whipped off her backpack and began furiously digging through it, looking for anything of value she could give to him. She almost always carried extra granola bars and fruit to give to those in need, but she was out today. She looked up, feeling the panic take over her face. She wanted to cry. Why was the world this way?
She made eye contact with a man sitting across the car, and his bright blue eyes echoed her pain. She looked away and searched her bag again. There had to be something.
When she looked up, the blue-eyed man was holding out a twenty-dollar bill to her. The rest of the packed train watched them silently.
"Here," the blue-eyed man said. "Give this to him."
"No," Nara said, a smile filling her face. "You give it to him. Thank you."
As the blue-eyed man pressed the bill into the man's hand, the knot in Nara's stomach untangled a bit. The man with one shoe wiped his tears and thanked the blue-eyed man profusely. As if inspired, or maybe even feeling that they had been given some sort of permission, the other passengers began to hand the man money and food. The blue-eyed man sat back down across from Nara and she grinned at him.
At each stop they looked up, made eye contact and smiled, checking to make sure the other wasn't getting off yet. Nara had never felt so comforted by a stranger.
When they approached the 7th Ave station, the blue-eyed man stood up and looked at Nara. "This is me. I hope you have a good day. And take care of yourself."
Nara looked into the crystal-clear pools of his eyes. "Thank you again. You too."
He nodded and slid through the doors and out of her life.
She and the man would probably never see each other again. Already she started to forget what he looked like, but she would never forget the kindness in his eyes.
For those few moments, they had been a team.
As the train bumped along she wondered, will I ever see him again? Will I even tell anyone about this? Will he tell anyone? Will he ever think about me?
She climbed the stairs out of the subway two at a time, squinting into the sun-soaked afternoon.
He would think of her again, she decided. And maybe it wasn't all random. But even if it was, there sure were some sweet surprises in the chaos.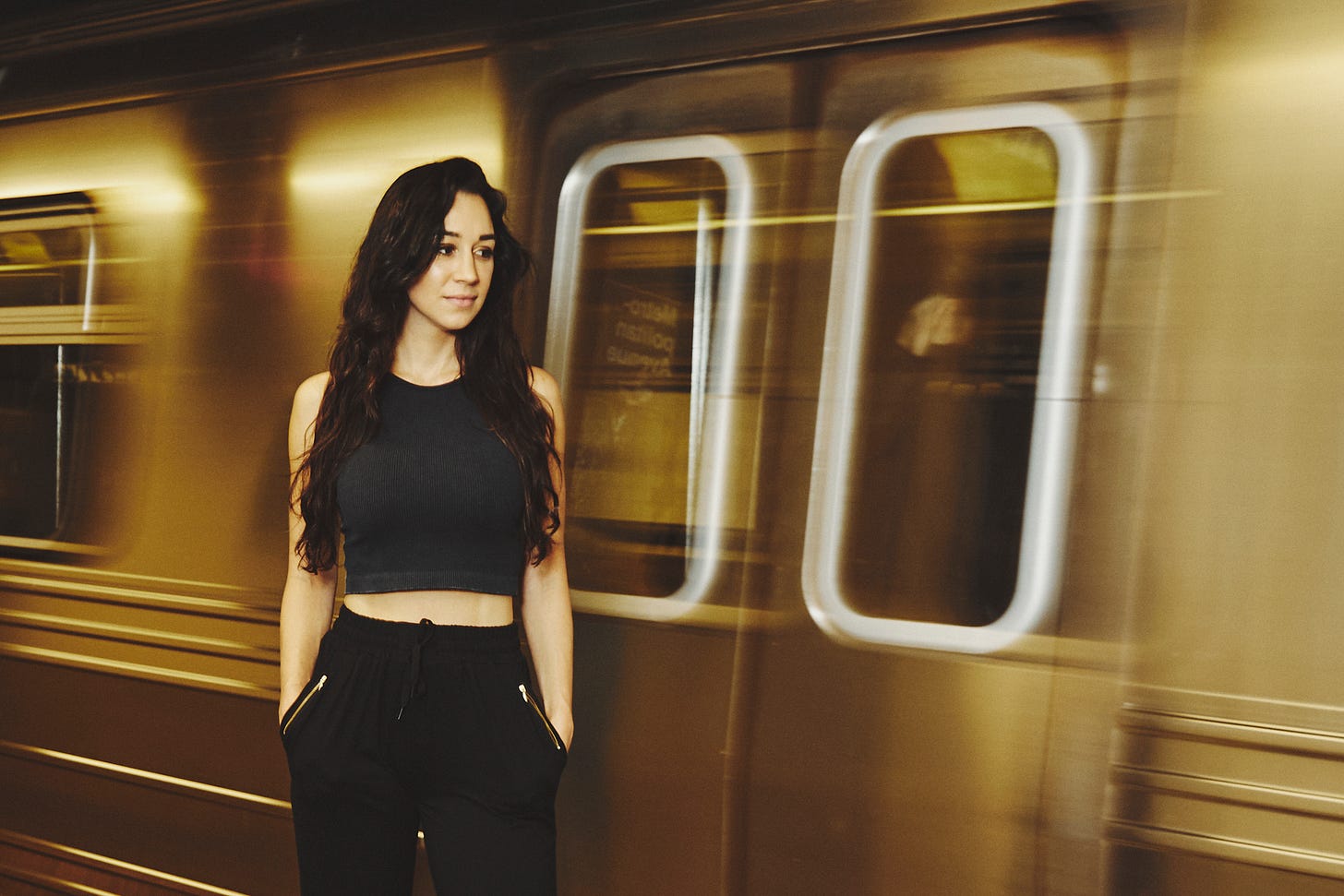 Photo by Noa Griffel