Discover more from New York Stories
Real New York stories, fictionalized.
Nara stepped into the bodega on the corner of her lively street in SoHo. The smell of bacon immediately greeted her, wafting into her nose and making her mouth water. She noticed her favorite cook working and waved at him. "Marco!"  
"Hey, baby!" Marco called out, wiping his forehead with the back of his arm. "What can I make you?" 
"Umm." She was distracted by her phone vibrating in her hand. Marco cleared his throat and pretended to check his watch as the grill sizzled and spattered behind him. 
Nara laughed. "May I have a BEC on a croissant?" 
"Sure, baby. What're you up to this weekend?"
Nara shrugged. "Oh, who knows, running around." 
She peeked into her brown backpack she kept filled with snacks, water, hydration packets, a portable charger and a blanket: perfect for any New York day. 
Marco's warm hazel eyes crinkled from his smile. "Stay out of trouble." He gave her a playfully stern look before turning back toward the grill to whip up her breakfast.  
"I will!" Nara chimed as her phone vibrated again, begging for her attention.  
Xavier 12:10 PM: I'm at Christopher St. Pier. Meet me at that spot in the grass we sat in that time we saw the weird couple with blankets over their heads. 
Nara stifled a laugh, remembering the time she and Xavier freaked out after seeing a man taking selfies with another human that was hidden under a blanket. The blanket had been wearing sunglasses  and only a pair of legs could be seen peeking out, much like a cheaply-made ghost Halloween costume. The man had smiled creepily at them like there was absolutely nothing strange about what he was doing. But, such is New York. 
"See you later!" Nara shoved the sandwich in her bag and headed out into the sunlit street. 
The summer heat kept Nara from walking or taking the subway, so she hopped on a city bike and took off in the direction of the west side highway. She slowed her bike as a man crossing Morton street stepped toward her with his arms outstretched. 
"Hey! Ey, ey!" He took another few steps in her direction. 
Was something wrong? Nara squinted her eyes and stopped pedaling. Maybe the man needed help?
"What?" she called out. 
The man made a lunge at her. "C'mere, cutie! Let me grab you!" 
Nara swerved out of reach and pedaled furiously. "You can't just try and grab people off their bikes!" she yelled back at the man over her shoulder while laughing. What the fuck?
Nara found Xavier easily enough. He was stretched out and shirtless on a blanket in all his glory, attracting looks from men and women alike. Nara thought he looked a bit like Tyson Beckford, but without so much muscle. 
"What's up?" he said, sleep heavy in his voice. 
"Let me guess. Flaming Saddles again last night?" Nara peeled off her shirt while she talked, revealing a teal bra that could almost double as a bathing suit top. The best thing about Christopher street pier? No one was there to look at her. Xavier was the preference here. 
"Yes, and then I went home with that couple that has the ridiculous penthouse loft in Chelsea. We were up till 6." 
"Again!?" 
"Yeah, they invited me to Mykonos with them in a month." 
"Are you going?" 
Xavier shrugged and grinned, flashing his white teeth in the sun. "Maybe." 
Nara laughed as she tore into her breakfast sandwich. "You're ridiculous." 
"Yeah, yeah. What're you doing tonight? Can you please get laid?" 
"God, I wish. My friend Jack has one of his friends from college coming into town, so we're all going to Le Coucou. Hopefully he's hot." 
"If he's not, just send some nudes to someone on Hinge and tell them to come over. Do the deed. It'll help you get over Aidan." 
Nara rolled her eyes at him. "Ugh, don't say his name. And I only wish I could be more like you in the bedroom." 
Xavier closed his eyes, smiling up at the sun. 
A little while later Nara blinked her eyes open. Sweat dripped around her breasts in the afternoon heat. She turned to Xavier. "Are you ready? I'm cooked." 
They packed Xavier's blanket and headed down the pier, talking about a mutual friend's love life. Nara studied Xavier's handsome profile as he talked. He knew he was attractive but he wasn't an asshole about it. Nara could appreciate that trait. 
She returned her attention to the pier only to be blinded by a white light. She squinted, still a little cloudy from her nap. When she finally understood what she was looking at, she couldn't speak for a few moments. They were headed straight for a naked man leaning over the railing toward the water, his white ass gleaming in the sun. 
All she could do was hit Xavier's arm in alarm. He was unintentionally steering her straight toward the naked man.
"What?" Xavier said, staring at her. 
The naked man began yelling about how what goes around comes around. Nara grabbed Xavier's wrist, her eyes widening as the shouting man climbed over the railing toward the Hudson River.  
"Oh, shit." Xavier put his hands on Nara's shoulders and spun her in the opposite direction. 
Nara craned her head back and caught a glimpse of the naked man pulling a large brown bag out of the water. Nara couldn't help it—she started cracking up. Soon, she and Xavier were bent over double laughing. 
"What just happened?" Nara sputtered. "What do you think could be in that bag?" 
Xavier put a hand on his head, his face vacillating between bewilderment and amusement. "I have no idea." 
Later that night, Nara threw on a dark red, low-cut dress and heels and ran out the door. She knocked on the bodega window and waved to Marco. He gave her a thumbs up and an OK sign, nodding in appreciation at her outfit. Nara smiled as she flew down the street. 
She found her friends Jack and Alexia at a booth in the back of the restaurant, standing with a well-dressed guy. He wasn't particularly handsome, yet he wasn't unattractive either.
"Hi," Nara said as she hugged her friends hello. She turned to Jack's friend. "I'm Nara."
"Casey," he said, appraising her as though she were a piece of Jonathan Adler furniture. 
She slid into the booth and took a breath. Here we go, she thought. 
By the main course, Casey was drunk. He had asked precisely zero questions about anyone else and yet they all knew how he had moved to San Francisco five years ago and had just sold his tech startup for ten million at the ripe age of 28. 
"And so that's when I got the boat," Casey was saying. "I was just bored with buying real estate." 
"Please, don't go on," Nara said in an English accent, garnering laughs from the table. She locked eyes with Casey for a moment, trying to gauge how he had taken her joke. The way he looked at her was somewhere in between a glare and admiration. 
"So, should we pull out the coke and do a line before dessert?" Casey said as if it were a joke, but Nara could tell he was serious. 
"Waiter!" he yelled, snapping his fingers as if he were royalty. 
Nara grimaced. She looked at Jack and raised her eyebrows. Jack put a hand on Casey's shoulders and chuckled. "Case…"
"What, man?" Casey snapped his fingers again, but the server was already at the table. 
Nara tried to catch the server's eye to let him know she was sorry for Casey's behavior. 
"Yes?" The server could barely hide his exasperation. 
"Can you serve us up some coke, man? And I don't mean the drink," Casey said before letting out a boisterous laugh like he had just told the funniest joke in the world. 
"Yo," Nara snapped, her voice turning to ice. "Stop." 
The server met her eyes with a look like why the hell are you with him? and then disappeared. 
"It was a joke," Casey slurred in her direction. "What do you do, anyway? Some sort of part-time work?" 
"No." Nara cocked her head. Was he serious? 
"Did you go to school?" 
Nara let out a derisive laugh. 
Casey looked around. "Sorry, was that an offensive question?" 
Nara put her hand on his shoulder. "Well, it wouldn't be your first one of the night." 
Jack and Alexia cracked up, and Nara wondered what Casey's friends from home thought of him. Did he even have any friends? Or were people only sticking around because of the money? 
"Now let me ask you one." Nara looked into his dark eyes while she talked, genuinely curious.  "So you sold your company for ten million and bought a boat. Did that make you happy?" 
Casey sighed and looked around, seeming to make a decision. He took a huge gulp of wine. "Who the fuck is actually happy?" 
Jack, Alexia, and Nara glanced around at each other in confusion. Nara hadn't expected such a blatantly honest answer. 
"I don't think anyone's really happy," Casey continued. "I think everyone's constantly yearning for more. I did the thing, I made the money. It didn't do it for me." He looked around at them, almost as if for guidance. "I was supposed to be happy after that."
"I'm happy," Alexia said. 
Casey sneered at her. "I don't believe you." 
Alexia laughed and took a swig of her wine. "Well, I am. Believe it or not." 
"Wow, I feel sorry for you," Nara said to Casey. She stood up and kissed Jack and Alexia goodnight. "Venmo me for the bill. I'm gonna go." 
Nara stepped out onto Howard street and inhaled the warm evening air. A violin played somewhere in the distance and she decided to follow the music. She had made a promise to herself after her first year in New York: if she didn't want to stay in a conversation or situation, she would just leave, without worrying what people would think of her. Her time was too precious, and she would rather be out here with the city. 
She smiled to herself. Who would've known that she was happier than a self-made millionaire?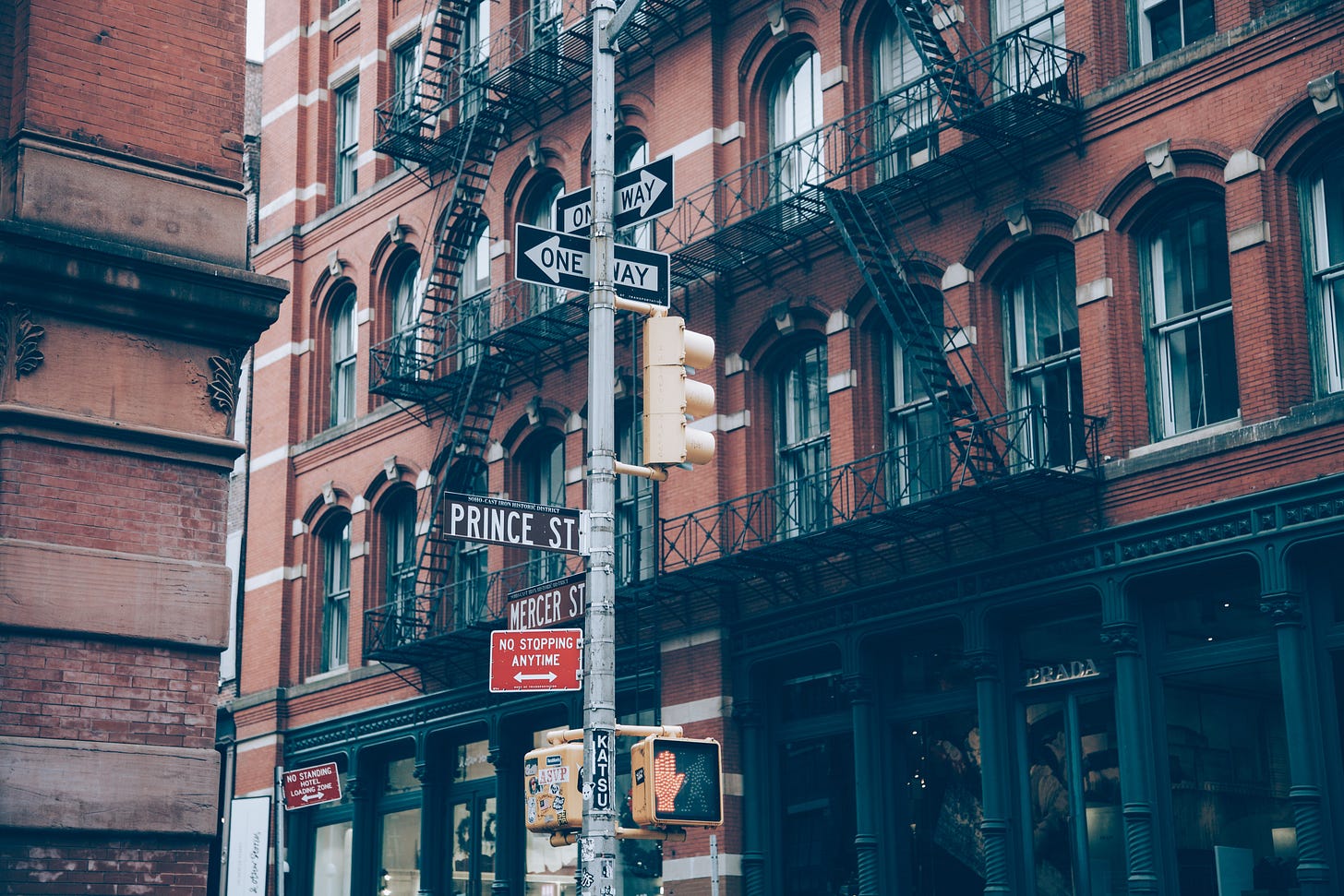 Photo by Anthony DELANOIX on Unsplash